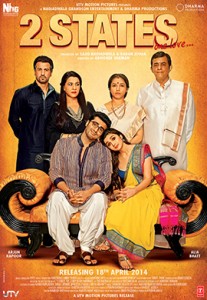 2 States Review: 2 States is a film for people who are totally disinterested in seeing good cinema. Its all baasi biryaani-raita idli-dosa stuff, and sadly, a lot of us are happy with it.
Rating: *
Director: Abhishek Varman
Cast: Alia Bhatt, Arjun Kapoor, Ronit Roy, Amrita Singh, Revathy, Shiv Kumar Subramaniam
I often bring up Beyonce in my conversations. Like one of the singles from her latest self-titled album, she is Flawless and, like the lead single from her previous album, Runs the World. Before you read any further, download the album 'Beyonce' to your computer; if perchance you have super-fast internet connect, I think you'd have it by the time you're done with my review. Let's move on.
On her album, Beyonce has a single called 'Haunted', which is segmented into 2 parts, the first titled 'Ghost' and the second 'Haunted'. In Ghost, right before getting to the hook, she echoes ' All these people on the planet working 9 to 5 just to stay alive The 9 to 5 just to stay alive…'. She seeks for happiness, which she finds in making music and not in dull
9 to 5 jobs. Her records are testaments to her passion in singing; were she to treat this like a '9 to 5' job, she'd be producing unmemorable music.
Author Chetan Bhagat treats his writing career like a 9 to 5 job. His is one of those inspirational "follow your dreams" stories that's created a lot of buzz among people, especially the youth, and invigorated them to, well, 'follow their dreams'. By now, most Indians know of his life story – after graduating from IIM Ahmedabad, he wrote three books all while working full-time at an investment bank; he took up full-time writing a year after, as he reveals in a recent interview, a French journalist and friend expressed surprise that he could work at a job he hated (she made that inference through recurrent themes of struggle with authority in his books; I guess the French editions are more tolerable because the English editions are lousy, but anyways). His wife Anusha, a fellow IIM-A graduate, continues to work at a bank while he pens thoroughly mediocre yet money-spinning books. I've read Three Mistakes of my Life in its entirety, and skimmed through the first fifteen pages or so of One Night at a Call Center (up to the point where everyone was rambling in a car). I have two copies of 2 States on my bookshelf, both gifts from Chetan Bhagat fans obviously, but I haven't had the nerve to open them, especially after finding the Call Center book unbearable. But I know the story – it's written on the cover page. It reads 'the story of my marriage', and the back cover adds to it 'Love marriages around the world are simple: Boy loves girl. Girl loves boy. They get married. In India, there are a few more steps: Boy loves girl. Girl loves boy. Girl's family has to love boy. Boy's family has to love girl. Girl's family has to love boy's family. Boy's family has to love girl's family. Girl and boy still love each other. They get married.' An amusing and yet acute observation on love marriages in India which doubles as a synopsis for his book. It also encapsulates concisely the entire plot of the book's cinematic adaptation, which has released in cinema halls today.
Now I can't make any conclusive remarks on 2 States, for I haven't read it. But his previous books have ranged between mediocre and unbearable, and I've found his often writing weak, his storytelling dreary and his characters pulseless. It is Bollywood which has to be credited for resuscitating the flavor lacking in his books and making engaging adaptations of Three Mistakes (Kai Po Che) and Five Point Someone (3 Idiots). Hello, inspired by One Night…, is the only one to fail both as a book and a film. In my review of Kai Po Che, I'd suggested that 'any talented scriptwriter or director should get his hands on a Chetan Bhagat book, which have proved to become great film adaptations, and turn it into a fine film with the help of a talented crew'.
Here we have Abhishek Varman, debut director pairing Arjun Kapoor, playing a sobered down version of himself, and Alia Bhatt, doing a cute-girl-with-Tamilian-accent act. I was keen to see what they brought on the plate. Newcomers like Sushant Singh, Amit Sadh, Rajkumar Rao and Amrita Puri rocked in Kai Po Che!, while I can still laugh my lungs out watching veterans Aamir Khan, Maadhavan and Sharman Joshi goof around in 3 Idiots; the films also had strong directors (Abhishek Kapoor and Rajkumar Hirani respectively) and scriptwriters (Bhagat is one of the four script-writers in Kai Po Che!) backing them. Now read the quote in my previous paragraph; what
does it say? 'Any talented scriptwriter…' And guess who the sole scriptwriter of 2 States is? (SHUDDER) – Chetan Bhagat. And he's done the film a lot of wrongs.
The film picks up from IIM-A, where it seems like Arjun's Krish, the Punjabi munda, and Alia's Ananya, the Tamil poonu, are the only two sentient beings, the rest as inanimate as characters from the Harry Potter video-games that were released after game developers at EA games got lazy. There are books around, and some equations scribbled on the blackboard, enough to make a convincing IIM-A environment, right? Oh yeah, and a stern teacher (oooh)… If these two can make it to IIM-A, so can I!
The dialogues are highly functional, as if Bhagat was restless to get done with a situation and move on to the next (the next brand ambassador for Fast Track, I guess). The situation worsens when its 'meet each others' parents' time (his' played by Ronit Roy and Amrita Singh, and hers' by Shiv Kumar Subramaniam and Revathy). Rarely have I seen such stereotypical parents in the history of stereotypical parents (and Indian cinema has a notorious history for stereotypical parents). There's hardly an interaction between the in-laws that worth's mentioning in positive light, because each one is so in-your-face rude, like "You Punjabis are so loud" "You Tamilians are so dark". Imagine watching a film on interracial love where the whites go "You blacks are obnoxious" and the blacks respond "You whites are proud and prissy". The most ridiculous argument for inter-caste marriage comes when Krish tells his mom "But you married a Punjabi, and look what's happened to your marriage?".
The arguments and counter-arguments, both from parents and children, is so superficial that I'm alarmed at the writer could make intelligent adults argue like little children. I mean, it's been long since I've seen a dad pouncing at his son for falling in love in college. The scene's treatment is darn predictable – dad slaps son for 'misbehaving' and begins breaking stuff in an alcoholic rage, mom goes to pacify him and gets slapped, and then son slaps dad while mom's weeping – and what's worse is that there's little intensity in the fight, and hardly enough content to justify the fight's purpose except to act as back-story to explain the continuing enmity between dad and son'.
Two States has two short moments of novelty – one in Chennai, where the film spends most of its first half, and one in Delhi, which takes up the second. The first involves Krish proposing to Ananya by gifting a ring to her as well as her family, who are with her. The second is funny and involves Ananya sounding off a roly-poly dulha who demands a better car in dowry from his in-laws. The rest is baasi biryaani-raita idli-dosa stuff.
Now you'd ask me what to watch instead of 2 States for the weekend? If you aren't fussy about world cinema, I'd say 'Gadjo Dilo', a delightful French-Romani dramedy about a young French guy's search for a singer which brings him to a Roma village, where he falls in love with a beautiful gypsy girl named Sabina. If you're looking for light-hearted fun that's rib-tickling at times while silly at others and with a similar theme, I'd recommend you rent 'Meet the Parents' and its sequel 'Meet the Fockers' starring Ben Stiller and Robert Di Nero – and this ain't a classic either but way better than 2 States.
And if you like Indian soap operas like my grandmother, I think you'd watch an episode of Star Plus' Yeh Hai Mohabbatein online, which my grandma tells me is also on the lines of a 'Punjabi guy and Tamil Girl romance'. I sat through just a minute of it. Still better than 2 States.
The Beyonce album downloaded yet?