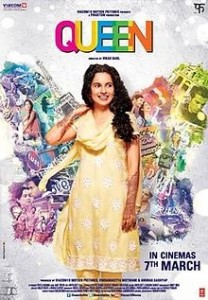 Queen Review: Vikas Bahl's Queen is sassy, sexy, sensational and superb. Kangana Ranaut is luminous while Lisa Hayden's just wow. #Itrules.
Rating: *****
Director: Vikas Bahl
Cast: Kangana Ranaut, Lisa Hayden
I couldn't afford to spend on two films per week and therefore I chose to watch Total Siyappa, having like its promos. However, my one-star review gives a clear idea of the things that went awry in the film. I went for the acclaimed Kangana Ranaut starrer Queen this weekend, nearly two weeks after the film hit theatres. I won't elaborate on the plot details as you'd have read them already in previous reviews.All I shall give is a quick and short review. I'm sure we shall find Queen ranking high on the year-end lists of 2014's best releases.Here's why:
Simply put, Vikas Bahl's Queen is sassy, sexy, sensational and and superb. Rarely has a Bollywood film made me smile, and in some cases laugh out loud, so much. There not one false note or a phoney situation here; in fact, Queen smartly shrugs off smarmy sugar-coated sappy stuff, choosing to remain sincere in its storytelling. And tip my hat to its heroine, who puts up a show-stopping performance that'll likely go down as one of the best performance by an actor – male or female – this year.
Two years ago, Sri Devi's stunning comeback performance as Shashi in the heartwarming English Vinglish reinforced her status as one of Bollywood's best actors. And now we have Kangana Ranaut reclaiming her crown as Rani, the protagonist of Queen, after abdicating her throne temporarily by picking embarrassing roles in films like Rajjo and Krrish 3. I never really understood the hoopla around her, nearly always put off by her awkward enunciation even in acclaimed films such as Fashion and Gangster. But after this film, all I can say is "All bow down to the Queen".
Ranaut is luminous as Rani, but her friend, confidante and guide played by Lisa Haydon nearly steals the show with an arresting and natural screen presence. In a conventional Bollywood film, she'd be stuck playing poorly written parts that only attempted to underplay her weaknesses. Here, her strengths – her accent, her sex appeal, her beauty – are highlighted and she gets into a comfort zone playing a lively, colorful character, allowing her to perform more freely. She's awesome.The diverse foreign presence (a Japanese, a
Russian, a Black French, and an Italian) in the film is well utilised.
There are female-centric films such as Gulab Gang and Highway playing in theatres right now. There's also comedies like Shaadi Ke Side Effects and Bewakoofiyaan. If you want to catch the film that triumphs both in terms of content and entertainment, I suggest you ditch these four films and watch Queen instead. #Itrules.
ourvadodara.in Rating Guide:
* = Avoid!!
** = Rent It / TV Premiere
*** = Book The Cheapest Seats
**** = Book The Best Seats
***** = Book The Best Seats + Buy The DVD!
– See more at: https://www.ourvadodara.com/bewakoofiyaan-review/#sthash.xxO3yyJM.dpuf