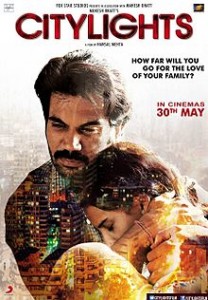 City Lights Review: The first hour of City Lights is pure cinema, as enchanting as it's bleak as the opening forty-five minutes of Pixar's famous Wall E. When a plot is embossed onto it past the first hour mark just to evince a progress in the story, the film weakens. Both Rajkumar Rao and Patralekha are superb.
Rating: ***
Director: Hansal Mehta
Cast: Rajkumar Rao, Patralekha, Manav Kaul
The first hour of City Lights is pure cinema. It is filmed with mighty passion, and much care and sympathy is extended towards its protagonists, both by the actors playing them and by Hansal Mehta, the film's director.
Too many filmmakers and scriptwriters these days fret they would aggravate their audiences by not adding twists just to shake up the plot in every second scene; a morbid fear haunting their sleep is probably to hear an audience member go 'Arre, lekin tere picture mein plot kidhar hai, bhai?'. I bet Sajid Khan is one such filmmaker; his upcoming slapstick comedy (there's actually a scene where four actor standing in a semicircle slap each other by turns to physically proclaim that the film's 'slapstick' ) 'Humshakals' features three sets of lookalikes paired with three babes who together seem as desperate to generate laughs (I found City Lights funnier than the trailer of this film) as Khan is to add random twists to the plot.
City Lights instead spends its first hour observing, and not in a detached manner of Aseem Ahluwalia's (superior) Miss Lovely or Ajay Bahl's (inferior) BA Pass, the lives of a family that has readily moved to the big city with simple dreams but is not ready for the big bad city and its difficulties.
The film, a remake of the British-Filipino crime-drama film Metro Manila, opens midway, already presenting us with a cliffhanger in its opening scene – the protagonist sitting inside a van looking disturbed, a suspicious dealing going awry, and gunshots. Then a black out. Next we see the profile a woman's face; she's in bed lying besides the protagonist. There's a shot of a young girl sleeping soundly, implying that this is the family whose journey we shall be spectators to. They are happy and content, and together as a family; their initial state of blissfulness and trust reminded me of Oliver Stone's 'Born on
the Fourth of July', a Tom Cruise starrer film which presents us snippets of its protagonist's childhood in a celebratory, 'All is Sunshine' style before cutting to the grimmer elements.
Their accents immediately tell us they are Rajasthanis; what the accents don't is that the actors playing them, Raj Kumar Rao and Patralekha, are Haryanvi and Bengali respectively. This comes as a welcome relief; bad accents can really be a turn off – remember Vidya Balan's ear-splitting, unconvincing Punjabi accent in Ghanchakkar? Both Rao, a National Award winner (for his last effort as the lead in Hansal Mehta's previous venture Shahid), and Patralekha, new to the scene, are a couple off-screen, and they effortlessly retain a natural chemistry onscreen. When they communicate with one another in the film, you feel as though the two are living an alternate version of their life as a couple through their characters; you can imagine
how draining it must have been for both actors. Much is demanded from them, especially in the first hour. On reaching Mumbai, their characters Deepak and Rakhi are left stranded along with their young daughter when the person they've been instructed to contact doesn't receives the call. He wasn't going to anyway; perhaps the man didn't even exist. The couple is naïve enough to pay ten thousand as rent for an unfurnished 2 BHK apartment to the first person who shows kindness and offers help.
Experienced Mumbaikars know better; a tea-stall owner is the one to coolly suggest 'Looks like you've been tricked!' and he's absolutely correct. Another, a bar dancer, scolds Deepak for falling for such guiles and suggests them to return to their village for the time-being, and she's also making sense. It's no good approaching the police, busy playing Block'd, for help when you're poor, naïve migrants. But Deepak and Rakhi are hopeful. The bar dancer, an unlikely angel, arranges for accommodation for the family; this time, it's an empty floor of an 'Under Construction' building, one that, as the architect or one of his men informs, shall be sold for three crores when its finally made. For now, its worth a hundred rupees per day.
The endless search for work and a better life make a day seem like a millennium. He becomes a daily wage laborer, loading and unloading bags of cement from trucks, but is unable to handle the dust and labor. She is stronger, replacing the bar dancer who helped her after the latter returns to her village. In one of the film's standout scenes, the bar owner asks her to take off her dupatta, inspects her thoroughly and asks her to dance for him.
The camera pans on her face, white light faintly capturing her expression while the background is pitch dark. I was taken back to Anne Hathaway's haunting 'I Dreamed a Dream' from the musical Les Miserables at this moment as the film captured Rakhi in bare close up breaking apart. The owner intimidates her when she doesn't smile, and for her family, she puts one on. This particular moment defines how it feels to live as a have-not in Mumbai. Life in the big city is only nice if you have the money, otherwise you need to tough it out, hold back your tears and keep yourself occupied, working for most of the day only to see the people whom you work for 'living their lives', as you're ridden along paths different from what you'd imagined but are finally taken somewhere – unexpected.
Deepak finds a job as a guard at a security firm, where he works along with his senior Vishnu (played by Manav Kaul, better known as a playwright and as an actor, was last seen in Kai Po Che! which, by the way, also starred Rao), who has shady motives of his own. This portion forms the second hour of the film.
When the title song blares in, growling 'City Liiiights!' in the background, during a sequence between Deepak and Vishnu, the film threatens to slip into Madhur Bhandarkar-like unsubtle territory. The music, despite being effective (if you were paying attention to the title credits, you'd have caught that the credits for music only show up when the first song starts playing), is overplayed.
The first hour of City Lights is as enchanting as it's bleak as the opening forty-five minutes of Pixar's famous Wall E. There isn't a marked progress in the plot, but the movie captures the atmosphere and rhythm of life in Mumbai for an outsider, who is rebuilding her or his existence in the city. The shots of sunlight invading the couple's private space through the large openings in the walls of their 'house' remain in our memory. So do the shots of a flock of birds flying away and back to the power-lines, all sitting in a row like migrants. And the shot of city lights, that shine on the characters as they break down, unable to help.
And yet, despite all its strengths, I shall give it three stars for I wasn't very impressed with the plot that's embossed onto it past the first hour mark to just to evince a progress in the story. But I do believe City Lights is worth a watch. For anyone who lives in or has visited Mumbai or has spoken to people from Mumbai, this film shall bring to memory those experiences. I could recall two myself – one involves my uncle who, my aunt jokes, completely transforms to a suave, status conscious version of himself when he is in the major areas, and the second involved an auto driver from Bihar, who gave me a lift one night and opened his hearts out about what it was to live in Mumbai as an outsider– and he fortunately was in the company of a person who was willing to listen.
ourvadodara.in Rating Guide:
* = Avoid!!
** = Rent It / TV Premiere
*** = Book The Cheapest Seats
**** = Book The Best Seats
***** = Book The Best Seats + Buy The DVD!